Your body is changing daily, your bump is getting so big your toes are disappearing, and your breasts….wow they are two or three times the size they once were!! These girls need support and fast! Like all things motherhood, everyone has differing advice on when, what kind and how many maternity/nursing bras you will need.
To help ease you into this new expanding world of yours I am excited to announce I am offering everyone who books a Maternity and Newborn Portrait Session with me a FREE MATERNITY/NURSING BRA AND EXPERT FITTING with the ladies at one of Melbourne's finest lingerie stores; French Bikini Lingerie Boutique.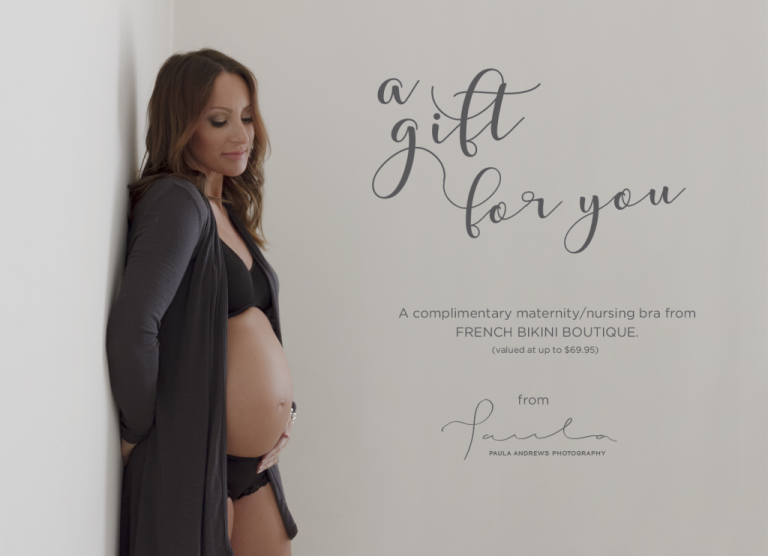 Located a couple of doors down from me in Carlton North's Rathdowne Village, French Bikini is now stocking a stunning range of Cake maternity and nursing bras.   Owners, Helen and Effie will be able to give you some expert advice on what bras will see you through this and future pregnancies, and help you select the perfect one for you.
Their feminine line of maternity bras are made of delicate fabrics and team up perfectly with silk chemises, robes or cardigans in maternity photography sessions. Or, similarily if you are wanting to capture memories of you breastfeeding during your newborn photography session.
It's never too early to book in for your maternity and newborn photography sessions so if:

– you have just found out you are pregnant,
– you have just passed the 12-week mark and shared the news with everyone,
– you are heading into your third trimester
– you are literally counting the final days till you get to meet your newest family member

Get in touch or give me a call on 0416 224 152 to secure your date and get one of French Bikini's beautiful maternity/nursing bras.