Choosing a newborn photographer can be an overwhelming process – 
it can feel like there are so many newborn photographers and so many styles of newborn photography to choose from in Melbourne.  

The good news is, this means there is a photographer for everyone. I've put together a list of questions to ask to help you choose the best photographer for you.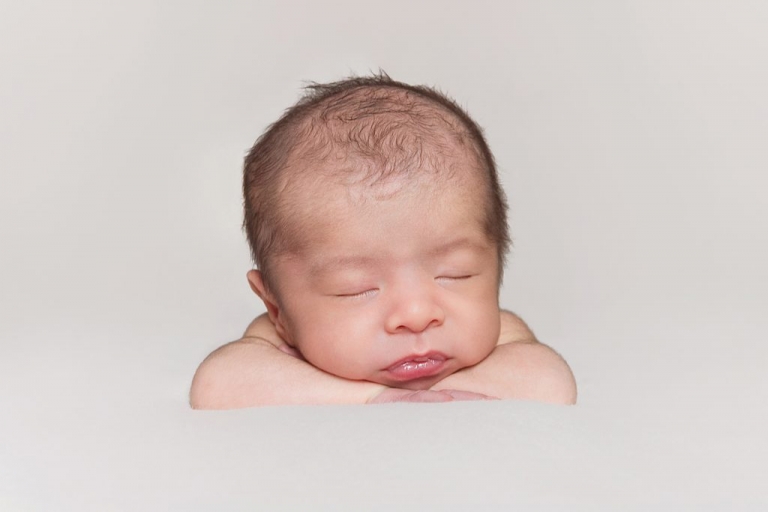 Questions to consider to ensure you choose the right newborn photographer for you and your family:
What style of newborn photography are you drawn to?
The best place to start to ensure you choose the right newborn photographer for you is to determine what style of newborn photography you are drawn to. 
Do you like posed or a more in-home lifestyle/documentary style?
Do you prefer vibrant bright colours or natural, earthy tones?  
Are you drawn to simple images which are all about your baby or do you prefer images where the baby is in/surrounded by lots of props?
Do you like traditional family photos with everyone sitting smiling at the camera, or do those images which show connection and actual memories move you?   
A photographer's portfolio will clearly show you their style, so you know what style of photos you can expect from a session with them.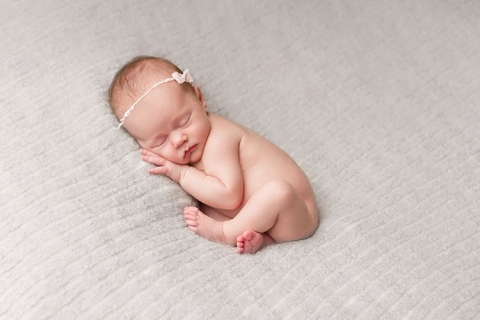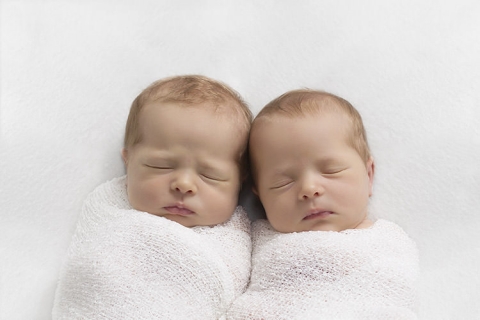 Do they specialise in newborn photography?

Newborn photography is a really specialised field; not only does the photographer need strong technical photography skills, but they also need expertise and experience working with brand new babies.
Your baby's comfort and safety is paramount throughout a newborn photography session, so an understanding of baby development, newborn safety and first aid is essential.  A photographer who specialises solely in newborn photography will be trained and skilled at soothing, settling and posing newborn babies.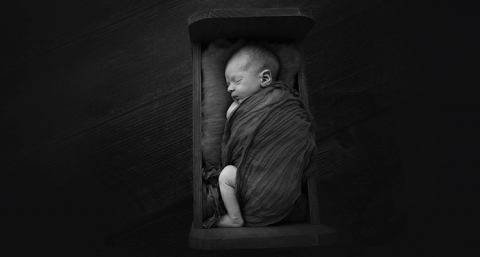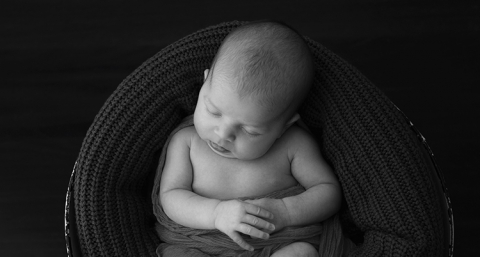 How many years have they been working as a newborn photographer?
You want to be confident you're hiring a photographer with extensive experience in handling and photographing babies.
With experience comes the ability and skill to pose your baby while ensuring your newborn is comfortable at all times throughout the session.  An experienced newborn photographer will have perfected a workflow to provide you with a stress-free photography session and a gallery that flows and offers variety.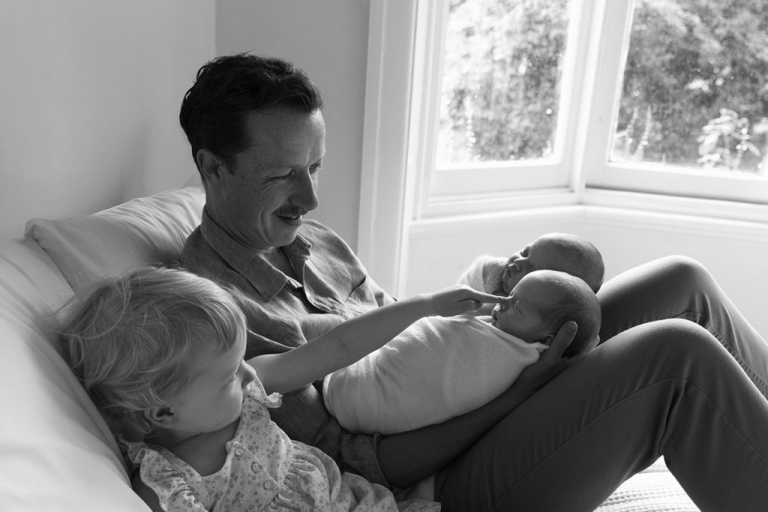 Do they offer prints? Albums? Wall art? Digital Images?
When you're hiring a photographer it's important to think about what you want to do with the photos.  Do you want artwork to decorate your home with such as framed prints, canvases or metal prints?  Or would you prefer a keepsake such as an album or portfolio box?  Are you wanting baby announcement cards to send out to your nearest and dearest to introduce your little ones?  
Many hobbyist photographers will simply shoot your photos and give you the digital images, leaving it up to you to organise printing, albums, framing, and how to display them.  Remember, life's about to get super busy, and the best intentions to print, frame, or design your own albums prior to arrival often fall by the wayside.
You're hiring a professional,  so be sure to tap into their expertise and seek their advice in deciding on the best way to display the images and sourcing long-lasting products that can't be bought off the shelf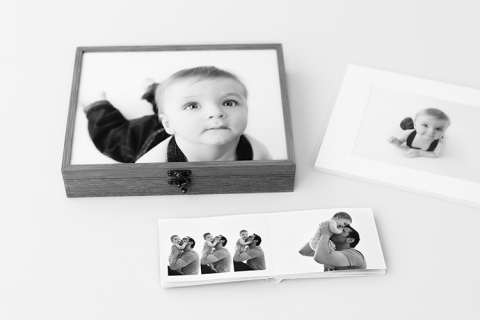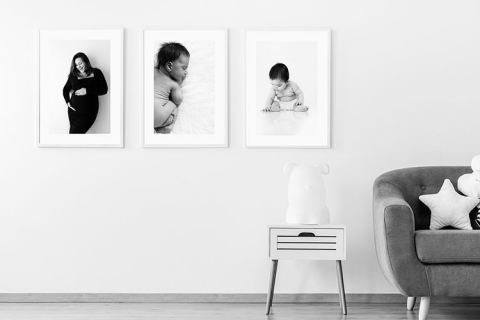 How long will it take to get your photos?

Waiting is the worst, so be sure to find out the photographer's timeline for editing the images after the newborn photoshoot. You don't want to be waiting weeks or even in some cases months to see the photos from your photoshoot.
Are siblings welcome?
Involving older siblings in a newborn photoshoot can be pretty stressful for parents, given older siblings are often aged 18 months – 3 years old.  Not all newborn photographers are proficient and comfortable photographing older children; some choose not to offer family photos during a newborn photoshoot while others struggle through hoping they will get at least one shot for you.  
As newborn photoshoots typically last up to 2.5 – 3 hours, I recommend you discuss how those photographers who do welcome older siblings involve the older brothers and sisters into their newborn portrait sessions.  Is their newborn studio child-friendly, are the older children required for the entire session, do they have areas in or around their studio where the children can go to burn off some energy during a session.
Some photographers choose to charge extra to include older siblings in their newborn photoshoots; I suggest clarifying this before booking so you aren't blindsided.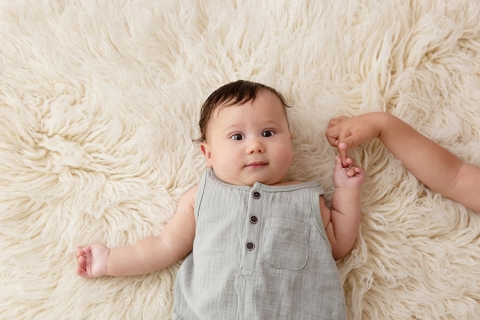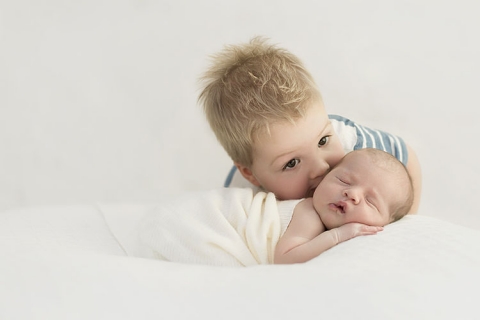 How far is their studio from your home?

Most photographers want your baby to sleep for the majority of a newborn session, as babies tend to fall asleep on car rides you don't want to be driving too far to get to the studio and then have a wide awake baby on your hands.
Do they have a cancellation/rescheduling policy?
A large percentage of newborn photographers are busy parents themselves and as such run part-time newborn studios, which limits their session availability.  As the 'ideal' timing for a newborn photography session is a short window, usually within the first two weeks, I suggest finding out how many days a week the photographer works in case you need to reschedule. Birth and the first few days of parenthood can be unpredictable so choosing a photographer who offers flexibility is a wise choice.  

Along with this it pays to consider the likelihood a photographer may need to cancel on you, many photographer's have small children of their own, and as we all know kids tend to pick up every bug or virus that's going around.  If they work from home, or are the primary caregiver they may need to cancel your photoshoot so again it pays to find out if they'll have the flexibility in their work week to fit you in while your newborn is still under two weeks old?
Are they vaccinated?
While the vaccination question is a hotly debated topic especially since COVID arrived, I recommend choosing a photographer who is vaccinated not only for coronavirus but also for things like whooping cough.  Ideally you want a newborn photographer who's vaccinated to the same level as health professionals working with babies must be to ensure your baby's health and safety.